About Defib First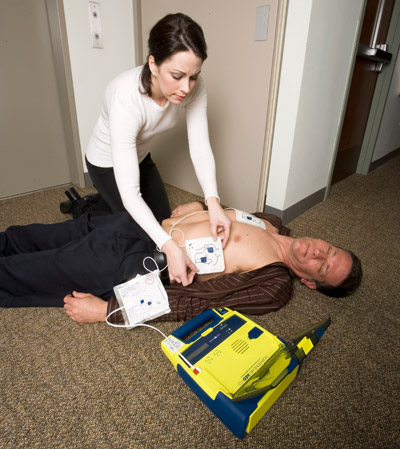 Trained presenters from Defib First provide an information & demonstration presentation to anyone, regardless of whether participants have First Aid training, so that they feel comfortable and confident to apply an Automated External Defibrillator (AED) in a medical emergency.
The service is to go wherever a group of people want to learn how the AED device works and how easily it can be applied. There is no accreditation or assessment involved so it is not threatening to anyone nor a disincentive to participate.
Defib First is a partner with Allens Training (RTO 90909) and complies with the Australian Resuscitation Council guidelines.
---
Defib First Director – Anne Holland
Anne is an experienced Public Speaker & Presenter with expertise in training anyone of any age, regardless of their level of First Aid training, on how to save the life of a victim of Sudden Cardiac Arrest by applying an AED. She is currently writing a book on the importance of Public Access Defibrillators, especially in the workplace, and how easy they are for bystanders to use in an emergency.
Apart from her background in the medical profession, Anne's passion in raising community awareness about these life-saving devices ignited following the sudden death in 2008 of her husband Paul, who suffered a cardiac arrest caused by a heart attack. He was a fit, active 56 yr old who left behind five children. This sort of event can happen to anyone.
Anne is a Division 1 Registered Nurse with Post Graduate Coronary Care Qualifications and 20 years experience in Level 1 Operating Suite Critical Care Nursing.
She is a registered First Aid Trainer (TAE40110 – Certificate IV Training & Assessment); a Sessional Lecturer at TAFE; and accredited Nurse Immuniser. She is also a Private Nurse Consultant providing IV cannulation for administration of medication in the home, Clinical Trial Research services, Venepuncture, Health Checks in Workplace and In Home Education of patients to administer self-injected medication.
Her previous roles include:
Insurance Medical Assessments consultant
Nurse-On-Call Triage Nurse
Interventional Medical Imaging Nurse
Program Practitioner in Interventional Therapy for Cerebellar Developmental Delay
Practice Nurse
Anne is a member of:
Rotary Australia
Key Person of Influence Australia
Immunisation Nurses Special Interest Group
Australian Resuscitation Council
Australian Nursing & Midwifery Federation
Institute of Learning Professionals
---